About The Author: Kathleen Hegarty Thorne
Kathleen Hegarty Thorne's love of Ireland and its fighting men and women ignited in 1992 during a visit to the Hegarty cottage in Ballinaheglish, County Roscommon, where the echoes of the footsteps of her deceased great-uncle and his comrades had fallen silent o'er the fields. In 2005 she introduced her first Irish tome, They Put the Flag a-Flyin' The Roscommon Volunteers 1913 to 1923, now in its third edition. Her next book, Echoes of Their Footsteps, Volume I, is a history of Ireland's War of Independence, including the months between the Truce and the beginning of the Civil War. The companion edition, Echoes of Their Footsteps Volume II, documents the actions of men and women dedicated to Ireland's freedom, the well-planned but sometimes desperate attacks and ambushes, the political pronouncements and figureheads, and the sorrowful events that engulfed the soul of the people of Ireland during the years 1922 through 1924.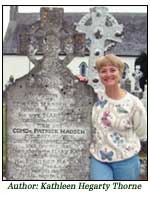 Thorne was born in Kansas City, Missouri, where she grew up and later graduated from Avila College. Advanced degrees from the University of Missouri at Kansas City and the University of Oregon followed. She has previously authored four books, including a theatre history, and a compendium of historical snippets about people and events at both ends of the Oregon Trail. She and her husband, Lew, live in Eugene, Oregon.