Roscommon is a county of fertile farmland, undulating hillsides, quiet country lanes and silver lakes. The area has strong musical connections - it was the birthplace of Percy French, and O'Carolan often played there. The town of Boyle is home to one of Ireland's principal lakeside attractions, Lough Key Forest Park, which offers nature walks, ring forts, cruising, fishing, a bog-garden, an old ice-house, picnic grounds and a fully-serviced caravan and camping site. Herds of deer wander freely through the park.
Other attractions in County Roscommon include Drumanone Dolmen and Boyle Abbey. It's also worth exploring the ruins of Roscommon Castle. Don't miss the famine museum at Strokestown Park House, which gives a unique insight into the lives of the Irish people who battled against 'the great hunger'.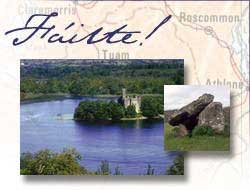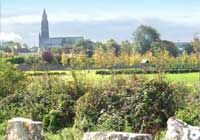 Roscommon Town, County Roscommon
Roscommon is a thriving and attractive midland town set in pleasant countryside - in the heartland of the 'invisible Ireland' that is less frequently seen by tourists.
Roscommon is ideal for cycling and walking trips, or using as a base for fishing, golfing and discovering the authentic side of Ireland, where people still make time to chat to strangers and friends alike in convivial local bars.